For some pet parents, the only bad part about a summer vacation is leaving their furry friend behind. But what if you could plan the perfect vacation for you and your pet? We rounded up a few ideas of things you can do that would be just as much fun for your pet as they are for you.
Is your pet a good fit for travel?
Before you get too far into planning mode, take some time to consider your pet's personality. If they get anxious in new situations, they may not enjoy staying in unfamiliar accommodations or being around lots of strangers. Or they might not have enough stamina to keep up with you on hikes or days with non-stop activities. It's important to be realistic about their likes, dislikes, and abilities. Your pet may need some time to get used to things like riding in the car, hiking on a leash, using a bike harness, or being carried in a backpack before you set out on a longer trip.
Generally speaking, the average dog is going to be a better fit for vacations than the average cat. That's because most dogs are already used to being out and about on a leash. Cats, on the other hand, often have less exposure to the outdoors, car trips, and safety harnesses. Indoor cats, in particular, may struggle on vacation because they are simply not accustomed to being outside.
Even if you have a dog or cat that is comfortable going on walks around the neighborhood or taking short rides in the car, you'll still want to ease into longer trips and do some prep work for any special adventures. Make sure you have an understanding of how your pet is likely to react when in new surroundings or around unfamiliar people. And be sure to get them used to any new equipment (bike baskets, seat belt harnesses, backpacks, etc.) from the safety of your home or yard before your vacation.
After careful consideration you may conclude that your pet would be happiest staying home instead of accompanying you on vacation. And that's okay (as long as you remember to bring them back a souvenir).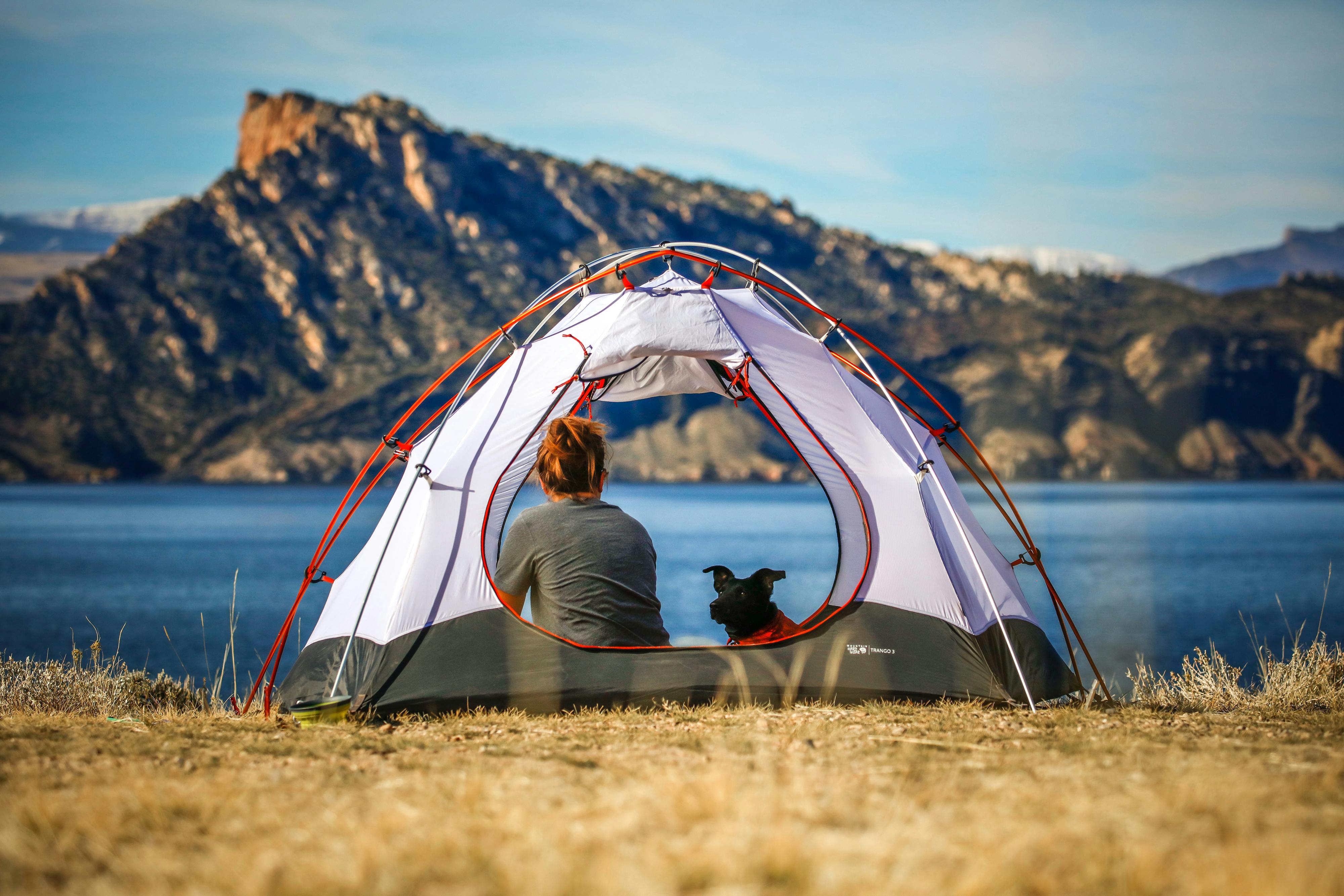 Vacation ideas for dogs and cats
Camping
Summer is the perfect time to get out in nature with your pet. And just how far into nature you go is entirely up to you. For example, cats may be better suited for RV camping, where they have a safe place to hang out in the vehicle but can enjoy leashed walks around the campgrounds (assuming they are comfortable on a leash). On the other hand, well-trained dogs may be up for staying in a tent in more remote areas where they can explore.
Bicycle trips
Renting bicycles is a great way to see new areas and get some good exercise. Good exercise for you that is. Your pet's job will be to take in the scenes from the safety of a bike basket. Just make sure they are safely secured in the basket with a harness and take plenty of breaks so they can take in their surroundings.
Road trip + hikes
Nothing beats a good old-fashioned road trip. Just be sure to make a comfy place in the car for your pet, bring plenty of water, and make time for bathroom breaks (or have a litter box available if traveling with a cat). You can plan a route with pet-friendly hotels along the way and short day hikes so you can stretch your legs and get fresh air. If you have a cat or small dog, a pet backpack will enable you to take them safely along without tiring them out.
Pet day camp
Your pet doesn't necessarily need to spend every moment with you. If you're interested in an activity that isn't well-suited for pets, consider dropping them off at a local doggie daycare or luxury cat boarding facility for the day. They'll have the chance to interact with fellow fur-friends or chill out in private spaces with upscale accommodations.
Beach cottage
Who doesn't love the smell of ocean air? Skip the hotel and find a pet-friendly cottage to rent near the water. You'll have more privacy and space, which may make your pet more comfortable. Plus, you can take walks on the beach or a dip in the ocean. (That last idea is more for the pups unless, of course, you have a water-loving Turkish Van.)
Before you hit the road...
Planning your itinerary is important. But that's just one part of the trip preparation. Here's a quick checklist of things you should do or pack to ensure your pet is vacation-ready.
Check with your veterinarian to make sure your pet has any necessary checkups, vaccines, and health certificates prior to traveling by car or plane. And if taking a flight, you'll need an airline-approved pet carrier. 
Does your pet get car sick? Ask your veterinarian if anti-nausea medications might help.
Make sure your pet has a way to travel safely in the car. This could mean putting them in a crate or using a pet-specific seat belt harness.
In addition to packing the essentials (food, leashes, medication), bring some of your pet's favorite items from home—like toys or a small scratching post—to help them feel comfortable while out of town.
Make sure all of the places you plan to spend the night are pet-friendly. Some hotels even offer special perks for dogs and cats.
Keep your pet's medical records handy and have contact info for emergency veterinarians in the areas you're traveling in case your pet gets sick or injured.
Make sure your pet's i.d. tag and microchip information are up-to-date.
Now that all that preparation is out of the way, it's time for the fun part. So get out there and enjoy your summer vacation with your furry friend!