Our Breed Discovery DNA test is an insightful, affordable tool for curious pet parents who want to know more. With this kit, you'll get the most accurate breed report possible. Our industry-leading breed detection system scans for 350+ breeds to deliver results that are over 98% accurate. 
In addition to breed insights, this kit includes an MDR1 test, which screens for medication sensitivities. "If you only get one test for a dog, this is the one," says Wisdom Panel's Head of R&D Becca Foran. "Wisdom Panel screens for a genetic variant within the MDR1 gene that is associated with a severe and sometimes fatal response to common medications. The variant is found in 1-2% of all dogs in the US (which is actually very high for a genetic mutation) and the frequency can be as high as 75% for certain breeds. Knowing your dog's MDR1 status really could be a matter of life or death, and is a critical piece of information ahead of some medical procedures or treatments. At Kinship, we put pet health above all else, and therefore chose to include this test in all of our product offerings because we think this information is so important for all pet parents." 
Wisdom Panel™ Breed Discovery also includes access to our new relatives feature. Once we analyze your pup's DNA, we sift through our database of over 3 million dogs (the world's largest) for genetic relatives. Considering 99.9% of dogs have a relative, there's a good chance you'll discover their birth parents, siblings, or extended family members.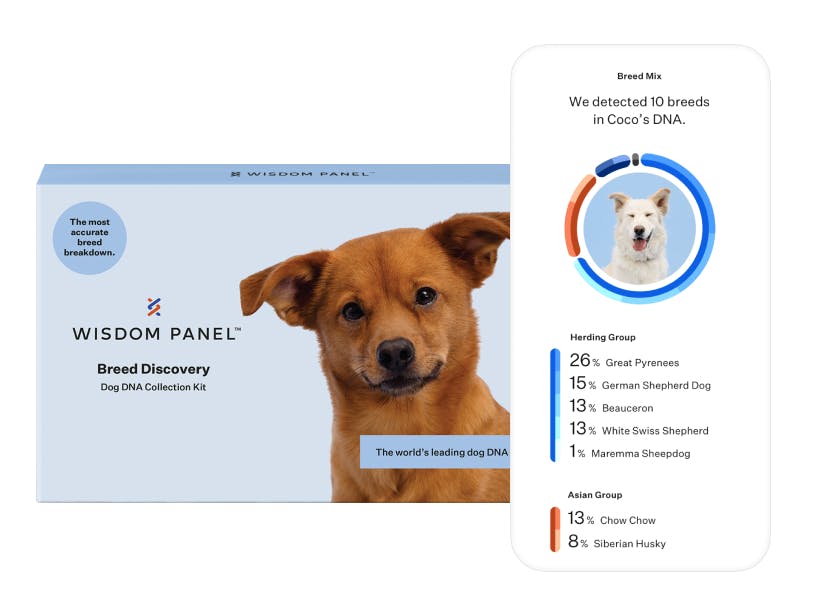 Why are breed insights so important? 
Breed can influence everything from temperament to nutritional needs to expected lifespan. According to Wisdom Panel's Head of R&D Becca Foran, it's also essential information to bring to your annual vet visit.
"Sharing your dog's breed background with your vet is similar to telling your physician about your family health history. It provides insights into health risks they need to be on the lookout for down the line. For you, having a grandmother with a history of cancer puts you and your genetic relatives in a higher risk category, which should prompt earlier and more frequent screening," Foran says. "For your dog, having 13% Golden Retriever in their DNA, unfortunately, suggests a higher probability of cancer and should alert your vet to a need for more frequent screening."
She adds that breed insights can also help you discover what makes them so special. For example, maybe their unique howl is because they're 30% Beagle. Or their unusual coat pattern is thanks to a parent who's part Dutch Shepherd.
With detailed breed insights in hand, you'll be well on your way to creating a more personalized care plan for your pup.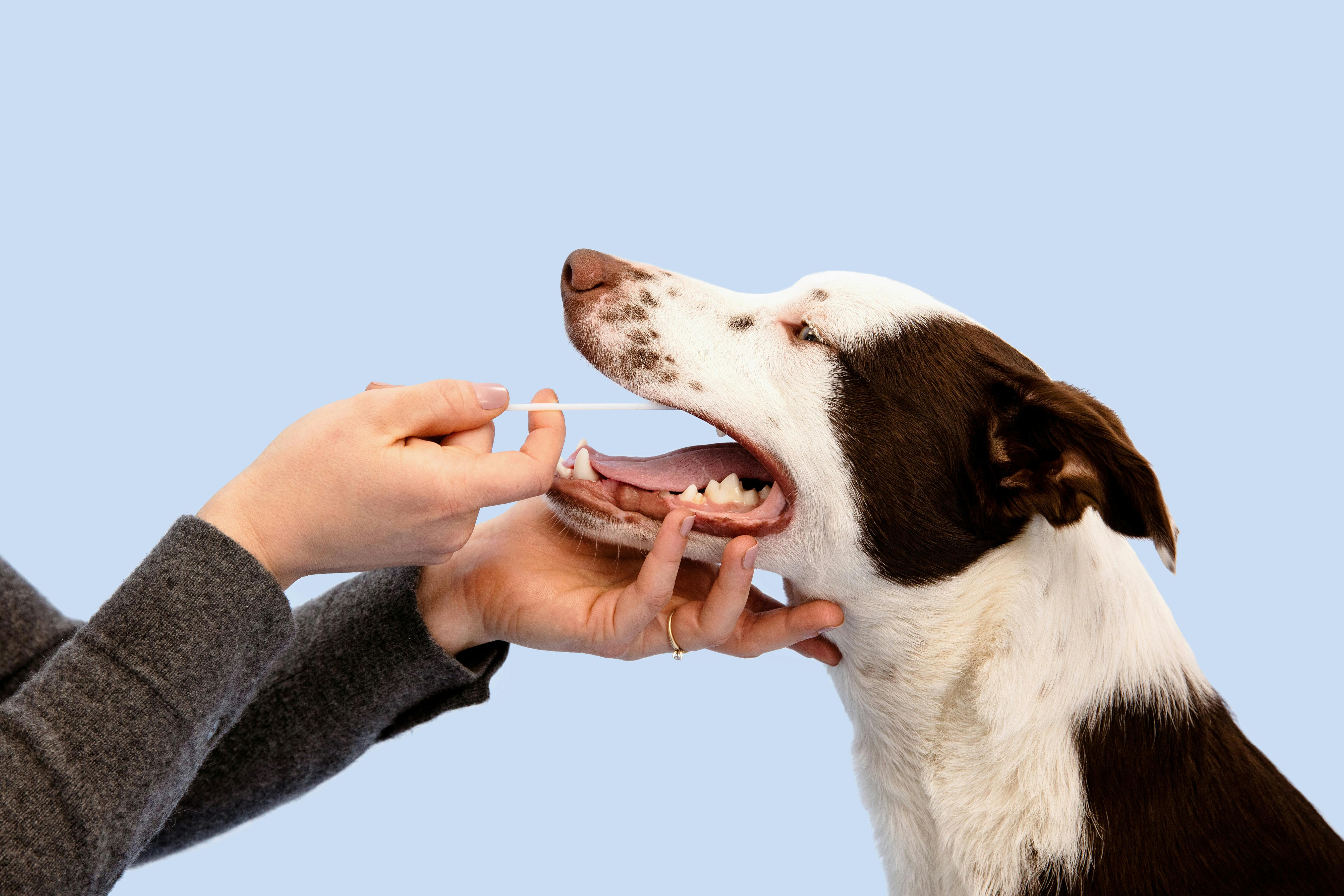 How our DNA tests work
With our quick and painless process, you can uncover a world of insights in just three simple steps: 
Step one: Use the two swabs included in the DNA kit to swab between the cheek and gums for 15 seconds. Allow those swabs to air dry for 15 minutes, then place them back in the swab sleeve. 
Step two: Send your samples to our lab using the prepaid mailer. 
Step three: In two to three weeks' time, we'll email you your dog's DNA results. Once you log into your Wisdom Panel™ account, you'll be able to see their full breed report, their MDR1 test result, and any relative matches. 
Want to make sure you collect the best DNA sample possible? Check out these tips.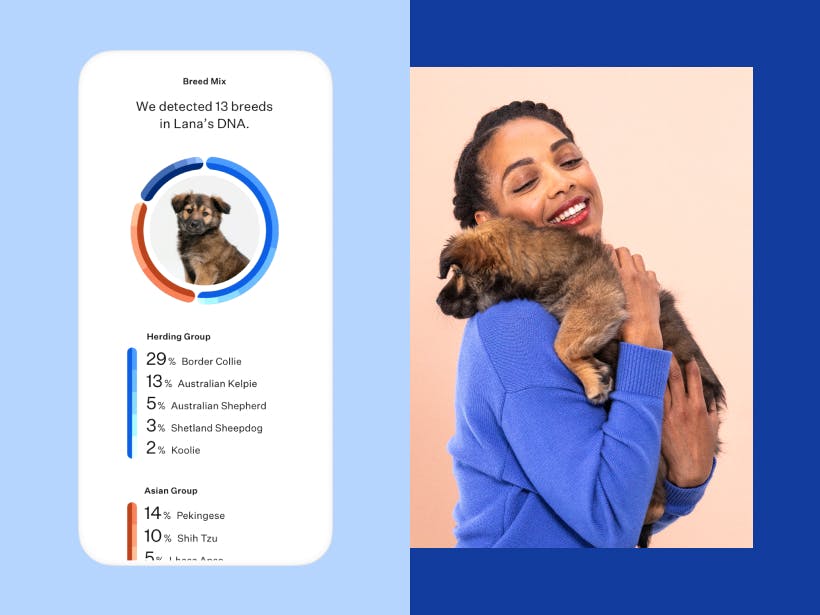 Why Wisdom Panel™
After 20+ years of research and genotyping more than 3 million dogs and cats, we've developed industry-leading technology that gives you a level of accuracy you won't get anywhere else. 
Here are three reasons why Wisdom Panel™ is a cut above the rest: 
1. Our dog breed detection system is 1,140x more efficient than the industry standard 
We've spent years building a breed detection system that screens for over 23% more dog breeds than our leading competitors. So you can have the most precise results possible.
2. We deliver breed results down to 1%. 
If they're 99% Golden Retriever and 1% Chesapeake Bay Retriever, you'll know it. With Wisdom Panel™ there's no ambiguity around your dog's genetic makeup. Our breed report gives you results down to 1% so you can feel confident about knowing exactly what their breed makeup includes. 
3. Your dog's results may help our scientists make a major dog DNA discovery. 
When you test your pet's DNA with us, you're contributing to the largest veterinary genetic research study ever. Each test carries us closer to the next scientific breakthrough in pet health. In other words, your results not only help you take better care of your dog or cat but also empower us to improve the lives of pets everywhere for generations to come.